The Challenges
The financial services industry is in a period of transition. Market shifts, competition, and technological developments are ushering in unprecedented changes in the global financial services industry. Organizations in this highly competitive and increasingly regulated industry will especially need to focus on making themselves more:


| | |
| --- | --- |
| | Adept to face increasing transaction volumes, regulation and the integration of previously disparate global markets |
| | Agile at identifying and managing risk |
| | Operationally efficient |
| | Customer – centric |
| | Optimized in both business & technology |
In this scenario, spearheading IT initiatives has become critically important.
Major spending initiative priorities tend to focus on automation to reduce costs and lessen risk, along with using BPO to gain efficiency and allow internal IT organizations to focus on strategic initiatives. Delivery of these capabilities at a high efficiency level but at low costs is one of the major success factors for any financial services business.
To enhance their competitive advantage in this changed environment, financial services institutions are increasingly harnessing new technologies to provide superior customer offerings and streamline internal processes. Today's dynamic marketplace demands that financial services providers emphasize on technologically advanced, feature-rich solutions, that can operate in real-time and with the highest degree of precision and reliability.
Information technology is increasingly being considered as critical to the strategic direction and the day-to-day operation of financial services firms.
Quintegra Advantage
At Quintegra, we develop innovative, business specific IT solutions, enabling our clients to address the challenges they face. Utilizing our high quality processes, in-depth industry knowledge and agile development methodology, we assist our clients in extending their customer service and reach, and upgrading and re-engineering their financial services processing technology. We offer a range of services for banking, insurance, brokerage and trading.
Quintegra's financial services practice leverages our comprehensive understanding of the industry's business and technology drivers to deliver quick and innovative solutions to an industry that thrives on speed, efficiency, and bottom-line results. Our comprehensive and mature portfolio of solutions helps our clients deliver higher stakeholder value, ensuring value for 100% of the audience. Our service offerings address specific client needs across the domain and technology spectrum. These solutions have the flexibility to perform over a wide range of technologies and operating environments
Quintegra's key offerings cover the areas of:

Asset Management


Investment Banking


Wealth Management


Data Warehousing


Exchange


Brokerage
Quintegra's refined and mature onsite/offshore delivery model enables us to provide significant business value to our clients over and above the cost advantages associated with an offshore delivery model. Quintegra combines rich expertise and experience in the financial services industry to provide comprehensive solutions that achieve measurable business gains, making us a one-stop source for financial services solutions for enhancing productivity.
Quintegra brings together business consulting and problem diagnosis skills, pre-defined solution stacks, domain knowledge, technology capabilities and our pioneering global delivery model to offer industry-benchmark solutions that can improve our clients' odds of success in the race for competitive leadership. We provide targeted solution offerings for financial services industry. Our solutions portfolio target includes: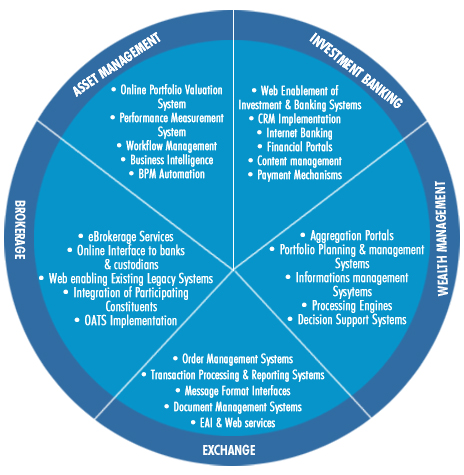 Quintegra helps financial services organizations to innovate, automate and execute their business processes at lower cost with higher quality.
Featured Case Studies