As software becomes a more critical component in systems, concerns about software quality are increasing. Consequently, Quintegra has developed quality standards that are specific to software or that can be applied to software. We are committed to maintaining the highest quality standards - of people, of processes, of infrastructure. It is our constant endeavor to ensure the highest quality in every aspect of IT services that we deliver. Quintegra has achieved certification of various standards, such as ISO 9001:2008 and ISO 27001:2005. The organization Information Security framework meets all requirements and elements of ISO 27001:2005 standards. We are ISO 9001:2008 certified for design, development, maintenance, testing and support of customized business application software services. This certification stands testimony of top management commitment to implement international best practices enhancing customer confidence and excellent team effort of Information Security Forum, Administration, Project Teams, and all other Support Departments.
At Quintegra, we consistently strive to conform to industry quality standards and conventions. The strict adherence to the quality processes has ensured that our customers benefit from:

35-40% lower operating cost*


25-30% higher productivity*


On-time deliveries (97% projects completed on time)
A structured quality process not only ushers in improvement in an organization's quality standards but also helps in enhancing efficiency and adding significant value to its services and business solutions. Quintegra follows a planned and systematic approach to the evaluation of quality and adherence to software product standards, processes, and procedures. Software compliance with agreed-upon standards and procedures is evaluated through process monitoring, product evaluation, and audits.
Quintegra follows three standards for quality assurance:


| | |
| --- | --- |
| | Documentation standards specify form and content for planning, control & service documentation and provide consistency throughout a project |
| | Design standards specify the form and content of the service. They provide rules and methods for translating the software requirements into the software design and for representing it in the design documentation |
| | Code standards specify the language in which the code is to be written and define any restrictions on use of language features. They define legal language structures, style conventions, rules for data structures and interfaces, and internal code documentation |
Quintegra Quality Management System
Quintegra is focusing on a single quality management system capable of meeting multiple quality requirements. The Quintegra quality management system not only conforms to existing quality standards but also flexible enough to incorporate new standards. Quintegra has implemented a time-tested system for efficiently managing software development, which ensures high level of quality in all the software developed. This system is controlled and run by the right people, using clearly documented procedures that meet international norms, backed up by frequent software audits. Services are monitored for conformance to standards and processes are monitored for conformance to procedures.
Software Quality Assurance
For each project, Quintegra identifies a Quality Assurance Representative to ensure that the project follows the defined processes and report the metrics to the organizational repository. During each step, metrics data are collected and cross-referenced against our internal database. At the end of every month or at the end of every phase, the QA representative conducts a process compliance audit to highlight areas that are not following the defined process for the project.The goal of Quintegra's quality processes is customer satisfaction. By adhering to comprehensive quality management system and quality assurance processes, Quintegra leverages project experiences and learning to bring about predictability in processes and continuity & sustainability in quality.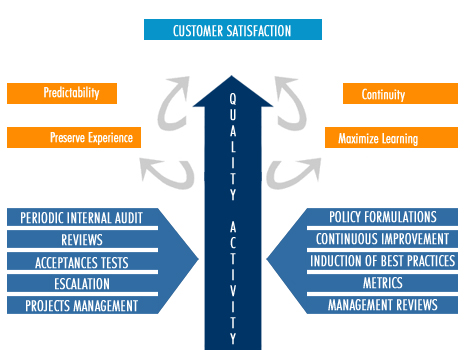 Quintegra is committed to exceeding our client expectations, by continuously seeking ways to provide the highest quality services.
*These are indicative cost savings and productivity improvements. These are the operational improvements in per year achievable by applying best practices over minimum standard processes.