Introduction
Healthcare organizations require comprehensive information management to ensure that vital patient information is always available to caregivers at point-of-care. A well-designed patient care system can streamline workflow, reduce the risk of medical errors and improve the patient care experience for caregivers and patients alike.
With Quintegra's patient care framework, healthcare providers are quickly streamlining patient care processes to realize greater control, increased productivity and improved accuracy within their departments, throughout their facilities and across the enterprise.
Offering
The Healthcare Practice at Quintegra provides smart and innovative solutions to several leading healthcare organizations around the world. The Healthcare Practice provides a revolutionary patient care framework for effective and efficient management of the patient care process. With Quintegra's patient care framework, staffs can dedicate more time to patient care information and enhance patient safety.
Quintegra's patient care framework is an electronic system offering care providers interdisciplinary plans of care required for a patient-focused care delivery system. Automated work-lists allow care providers to document care using a point-of-care-device. The framework provides the ability to observe up-to-date patient information, while managing all the constituents related to a patient.
The patient care framework establishes and generates the clinical tools needed to manage the delivery of patient care. Combined with Quintegra's hospital management solution, the patient care framework covers functional areas such as diagnosis, review details, inpatient & outpatient management, doctors' appointment diary, prescriptions, operation theatre management and the like. The system provides for extensive MIS reports and the data can be used for research and analysis.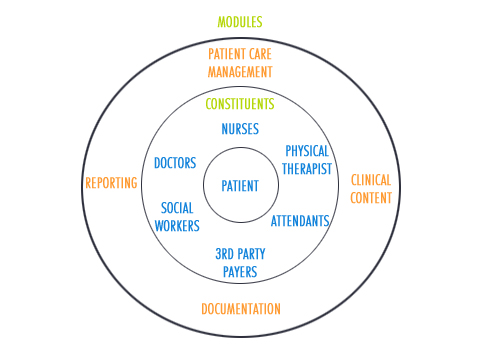 Patient Care Management
The patient care framework establishes and generates the clinical tools needed to manage the delivery of patient care. It enables a care provider to:


| | |
| --- | --- |
| | Create a patient assignment and identification lists. A care provider assignment list displays a particular care provider's patients. |
| | Initiate a patient standard of care for delivery of protocol or location specific patient care. |
| | Generate a suggestion list of problems from assessments. This list can be included on a patient's plan of care. |
| | Establish a plan of care for an individual patient. This can be a care plan or a critical path for the generation of work-lists and assessments. |
To facilitate the transition of automating patient care planning and on-line documentation, standard care plans are bundled. Customized care plans can also be developed for the framework.
Clinical Content
Inbuilt dictionaries, which link to clinical data management, serve as the foundation for automating patient care management. This clinical content, developed by expert clinicians, comprises the standard plans of care. The standard system dictionaries include:

Assessment


Intervention or plan of action


Outcomes


Problems

Documentation
The patient care framework allows care providers to electronically view, update, and process relevant patient information components of a plan of care. It supports the delivery of a patient-focused care system and offers a means to capture clinically significant data on the patient's progress. The documentation features enable care providers to document:

Assessment, plans, problems and outcomes


Intake and outputs, medications and laboratories data


Outcome evaluations


Variances


Notes


Medication administration records


Resident assessment
The documentation facility provides extensive customization capabilities, graphing upon demand, real-time data entry & publishing, various indicators and archiving.
Reporting
The patient care framework features extensive reporting and printing capabilities. The reports enable care providers and organizations to summarize information in various formats. The framework users have the flexibility to specify the level of detail to be included on these reports for printing. The framework enables users to print and report:
| | |
| --- | --- |
| | Patient profiles, including data screens, orders, current medications, interventions, notes, and data histories. |
| | Up-to-date plans of care, care provider work-lists, and patient care summaries and output formats capturing documentation data. |
| | Variance reports from critical pathways, tracking individual patient variance information and cross patient statistical data. |
| | Audit reports listing documented patient care. |
The various benefits offered by Quintegra's patient care framework for care providers include:
| | |
| --- | --- |
| | Patient data is presented in a logical and concise format through standard screens and panels for clinical decision making. |
| | Point-of-care documentation reduces transcription time and inaccuracies. |
| | Point-of-care documentation allows users to view real-time recording of patient data in the framework for timely decision making. |
| | Data can be viewed during documentation process to view patient's progress. |
| | Plan of care work-lists and assessments are automatically generated for a specific care provider discipline, which allows care providers to easily facilitate day-to-day patient care management. |