Introduction
A majority of organizations around the world are undertaking application modernization owing to several challenges - changing business demands and technology challenges are forcing organizations to improve operational efficiency of applications, while managing risk; organizations are facing complexities of rising cost & complexity of maintenance with users clamoring for better applications & newer features on one hand, while budget constraints do not allow them to do much about it on the other; organizations are not sure whether internal IT teams are geared to be able to expedite application modernization. Critical application knowledge resides with a few people and there is little or poor documentation. And most importantly - mature systems are sitting on older technologies, while competitors are zooming in with great architectures and easy to use modern front-ends.
Migration, as part of application modernization, leverages the current business model and the features of the application to move towards enhancement in a cost-effective manner. Quintegra can provide migration services that cater to varied platforms. We bring in our tools and expertise to make a smooth transition.
Offering
Quintegra's approach to migration is to use software based automation to the maximum, ensuring the focus shifts from technology to the business processes present in the system.
This is made possible by our emphasis on R&D which has yielded an ability to analyze the existing source code by means of tools, and our own homegrown migration blueprints which allows for designing using UML and BPMN notations. Our migration blueprints also support automatic generation of controller and class code along with database schema. The usage of industry standards for the visual modeling allows business analysts to focus on the business process flow while the output of this modeling is fed to the tool for code generation.
Quintegra offers end-to-end migration services, starting from application analysis, target environment selection, strategy definition, to implementation & support.
Our offerings for migration are as follows: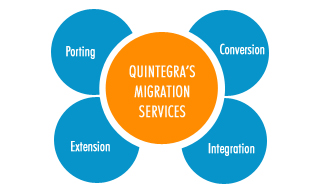 Porting
This primarily deals with enhancements made to the technical environment of the existing legacy system. The enhancements could involve changing the hardware platform, underlying language / application, database and/or operating system on which the system is currently deployed. The other technical aspects of the system such as data management mechanisms and application design are either not changed or changed very minimally.
Conversion
Programming language conversion or the data management technology is what typically constitutes the migration. Changes are made in the various parts of the application for data access and storage in the new data management environment. Quintegra performs multiple types of conversions including conversion of application programs within the same platform - from one dialect of the programming language to another and from one language to another; conversion of database and data servers; and conversion of application programs and data across platforms. Version upgrades form a part of our conversion services.
Extension
Extension is more of a 'quick-fix' solution; in that it does not address the core problems in the application but seeks to merely replace certain functionality, such as the User Interface, to provide users with a modern look & feel. For example, the Mainframe is treated as a black-box exposing some or all of its functionality by means of web services where applicable, and the new screens are developed to be able to 'talk' to the Mainframe. Quintegra creates a new user interface layer (screens) that connects to the Mainframe. The green screen terminal is thus transplanted into a web environment, delivering rich user experience through the use of web technology. The Mainframe however continues to exist as it is.
Integration
The EAI offering addresses challenges caused by disparate systems on heterogeneous technologies, data management and duplication challenges in the organization. Quintegra offers a host of services from consulting to integration, & porting/migration services for EAI products. Our approach offers the following benefits:
| | |
| --- | --- |
| | Iterative and incremental development approach to gain early ROI |
| | Seamlessly linking heterogeneous business applications into one unified system |
| | Migrated application integrated with other existing enterprise applications |
| | Competency in a variety of technologies such as Tibco, Seebeyond, Vitria, WebMethods, MQSeries, BizTalk and Web Services as well as custom solutions |
Quintegra offers valuable application migration services where clients are satisfied with the functionality of the existing system and not willing to change the existing business process, but the existing application technology platform is outdated and not meeting the future business growth.
Quintegra can analyze the existing legacy application functionality in detail, identify the target technology platform and build the solution on the target platform with the functionality of the existing application.
Featured Case Study